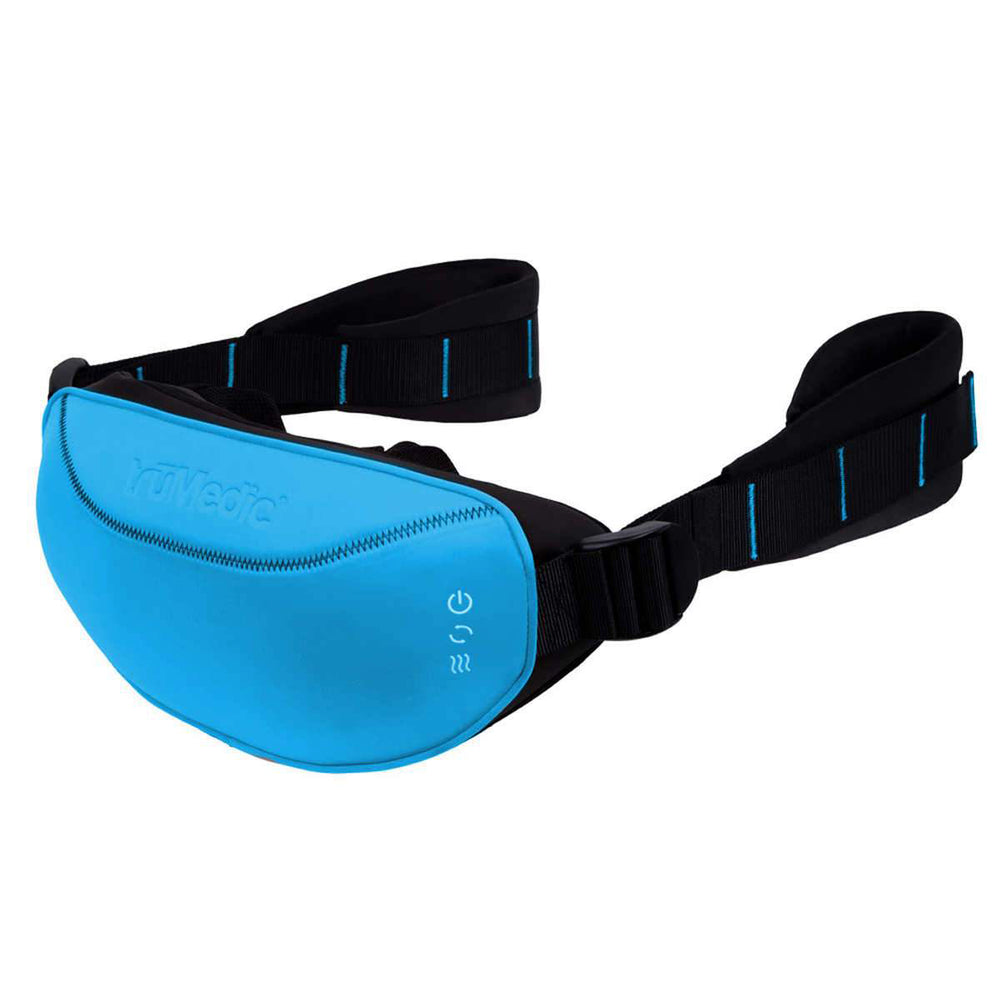 truMedic MagicHands truShiatsu Neck and Back Massager with Heat (Open Box)
Free Shipping Over $25
MagicHands™ truShiatsu™ Neck & Back Massager + Heat delivers high-performance shiatsu massage in a sleek, trendsetting, ergonomic package. It's built to last with reliable neoprene fabric, the same material trusted by deep-sea divers to be both comfortable and durable. Save BIG with this open-box unit and receive a full 1-year warranty.
Overview

Features

Specs & Manual

Certifications

Shipping & Returns
truMedic MagicHands truShiatsu Neck and Back Massager + Heat
MagicHands™ truShiatsu™ Neck and Back Massager with Heat is truMedic's most advanced massage unit yet. This massager's patent-pending mechanism recreates the touch of a professional masseuse. Four massage nodes each act as their own "thumb" to deliver effective shiatsu massage therapy while heat functionality relieves soreness.
What is an Open Box Massager?
All truMedic open box products from My Massage Deals are carefully reviewed, tested, and are certified to look like new. They are verified to work properly and include all parts and accessories. truMedic open box products are also backed with a 1 year warranty. We guarantee these products deliver the famous truMedic massage massage at a fraction of the price!
Customizable Massage

With reversible nodes, and heat functionality, the MagicHands™ truShiatsu™ Neck & Back massager + Heat gives you a unique massage in every session.

Durable, Stylish Fabric & Adjustable Straps

truMedic MagicHands™ is encased in sleek, comfortable, long-lasting neoprene fabric and includes custom molded adjustable arm straps.
Shiatsu Massage, Reinvented

Each patent-pending rotating node is designed to recreate the relaxing sensation of a two-handed shiatsu massage to soothe from head to toe.

truMedic MagicHands Specifications
Model:

 TM-MH Recertified
Warranty:

1 Year
Massage Type:

 truShiatsu
Heat Option:

Yes
Massage Controls:

Push Button
Run Time:

Varies, dependent on features used.
Charge Time:

2 Hours
Battery:

Rechargeable Lithium-Ion 2600mah 11.1V
Voltage Output:

DC 13V 1.8 A
Adapter Input:

100-240V-50/60 Hz
MagicHands User Manual
Federal Communications Commission
FCC Declaration of Conformity certification mark employed on electronic products manufactured or sold in the United States certifies that the electromagnetic interference from the device is under limits approved by the Federal Communications Commission.
Certification and Engineering Bureau
The Certification and Engineering Bureau of Innovation, Science and Economic Development Canada provides a certification service for radio equipment that complies with standards and a registration service for terminal equipment in Canada.
Bureau Veritas Certification
Certification is provided by an independent accredited body to include products and their components, services, people and systems. The certification process typically includes on-site audits and standardized testing and inspections.
Good Manufacturing Practices (GMP) Certification
GMP Non-Foods Good Manufacturing Practices certification from SGS ensures the integrity of truMedic's product manufacturing processes, important safety regulations compliance, and quality of consumer goods produced for sale.
UL Certification
UL's comprehensive services certification includes personnel, products, facilities, processes and systems to applicable standards and requirements. Certification ensures consistency through verifying quality management systems at the factory level.
ETL Listed Mark
The ETL Listed Mark ensures truMedic products have been independently tested and meet applicable published safety standards. AHJs and code officials across the US and Canada accept the ETL Listed Mark as proof of product compliance.
Free Ground Shipping
My Massage Deals provides free standard ground shipping including insurance on all orders over $25.00. We currently utilize UPS and USPS. After checkout, you will receive real-time tracking information from the selected carrier.
Please note: We do not currently ship to Alaska, Hawaii, or Puerto Rico.
30 Day Worry-Free Returns
We are committed to providing awesome service, customer satisfaction, and offer a 30 day worry-free return policy on eligble products. Please see our full product warranty and return policy for details prior to ordering.